Catch up with the latest student stories, events, and news updates. It's everything East Valley, in your pocket. If you haven't already, download the app! Download for Android
https://bit.ly/3Gl7DwS
Download for iPhone
https://apple.co/3TNIe1I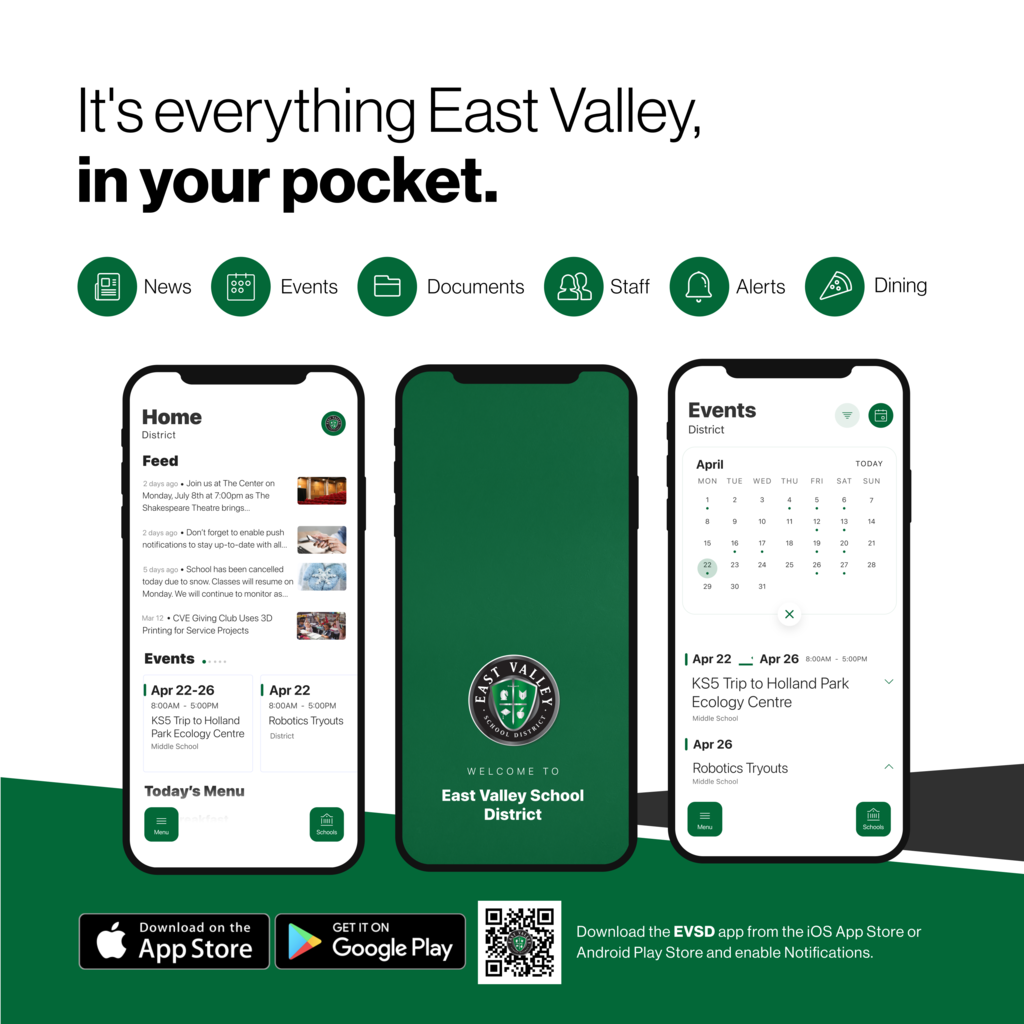 Spokane Homeless Connect 2023 is happening on Wednesday, January 25th! 10 a.m. to 3 p.m. at the Spokane Convention Center!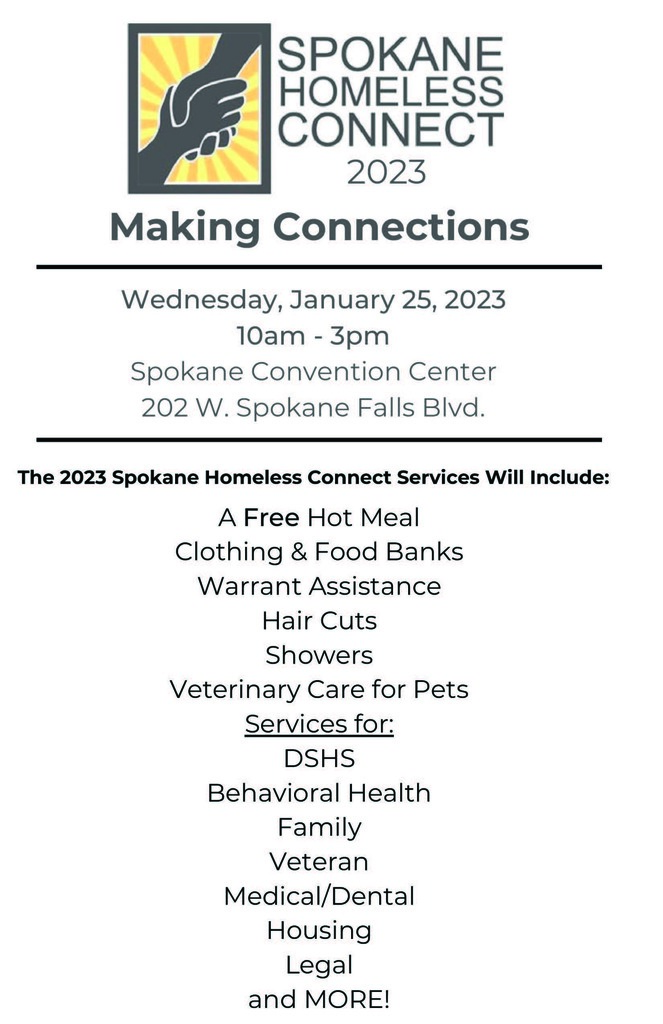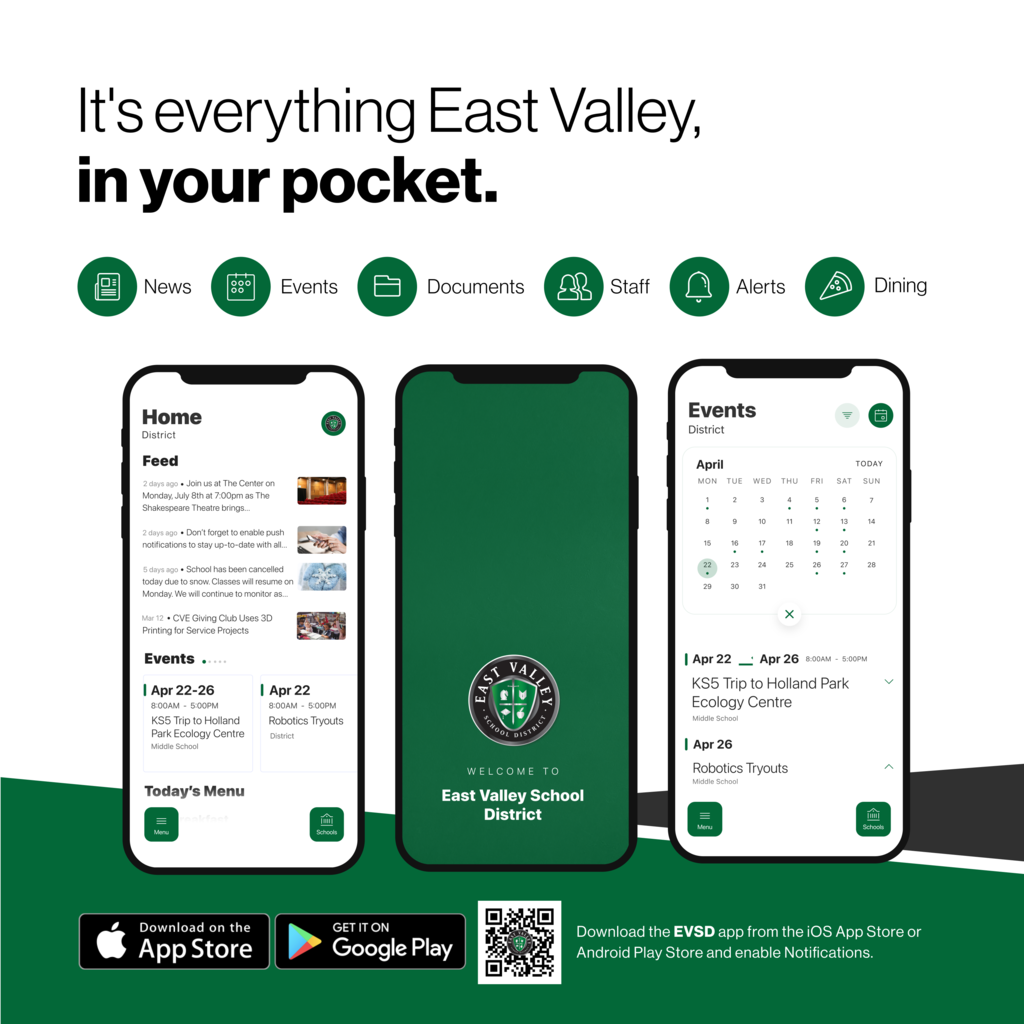 REMINDER: There will be no school on Monday, January 16, 2023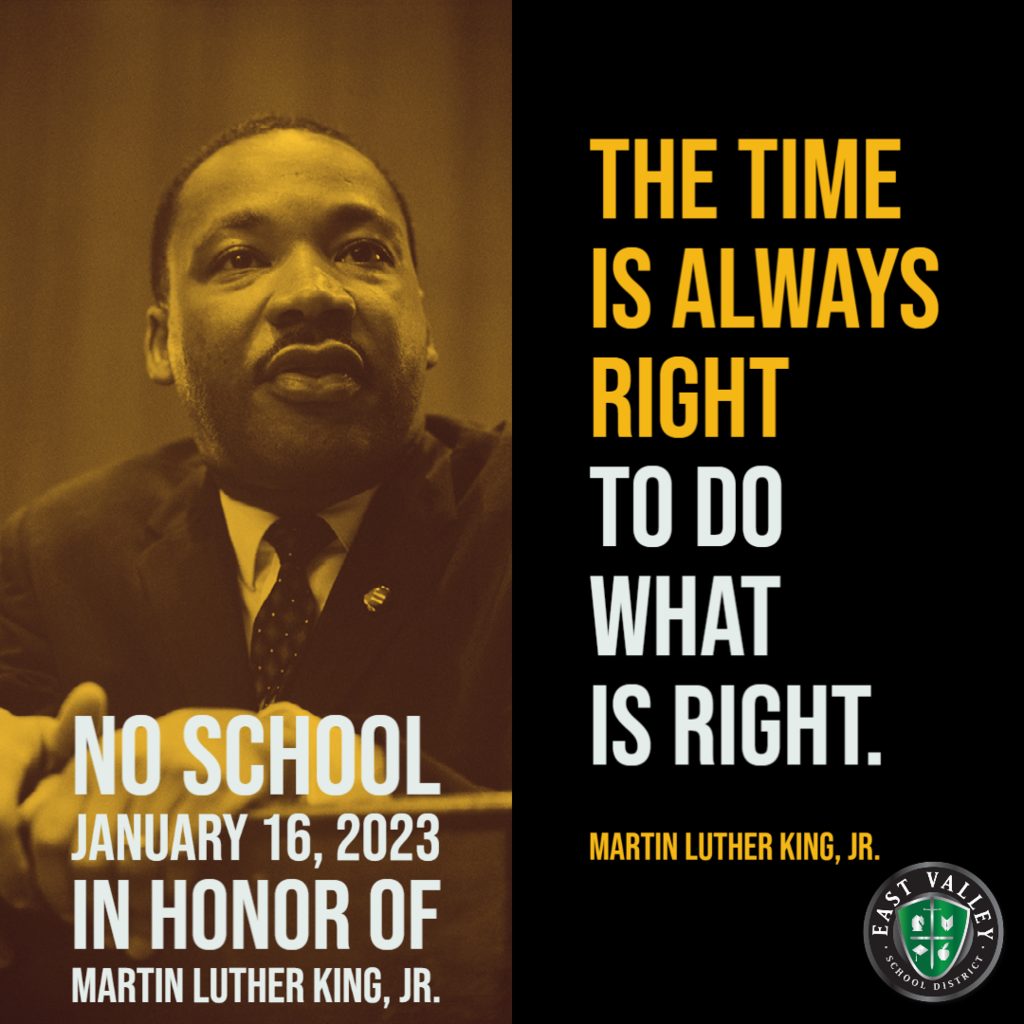 East Valley Wrestling Club begins Tuesday, January 10th!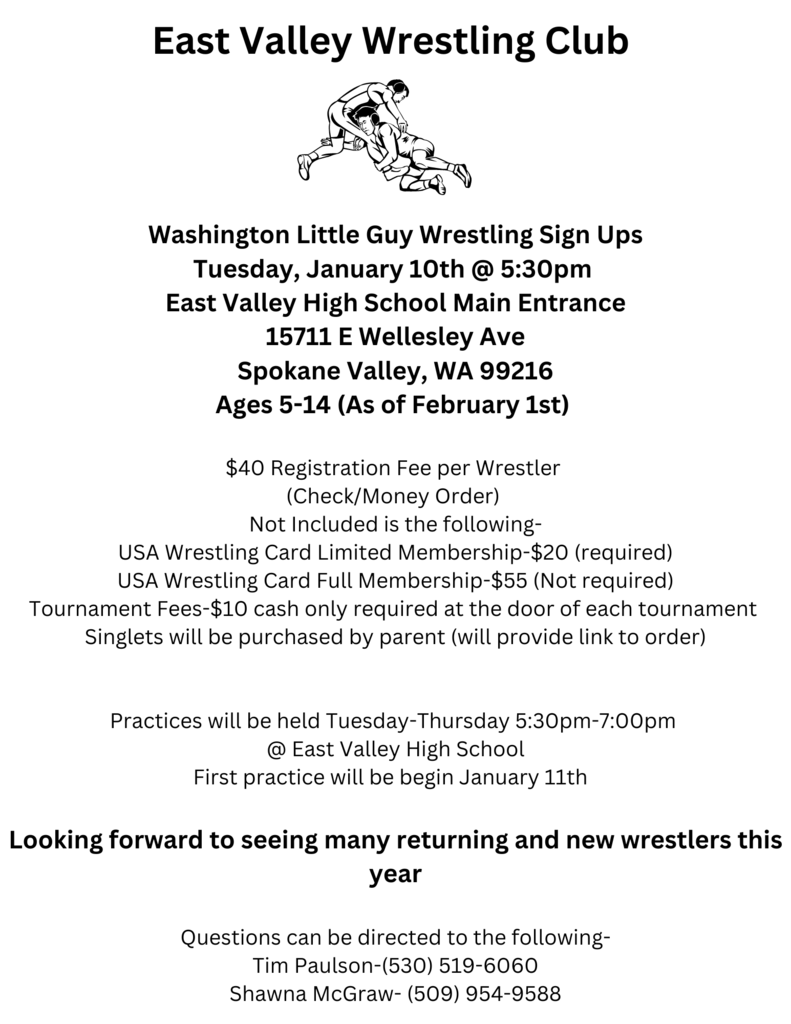 Welcome to the new EVSD website! We are still working on additional content, so please keep checking back.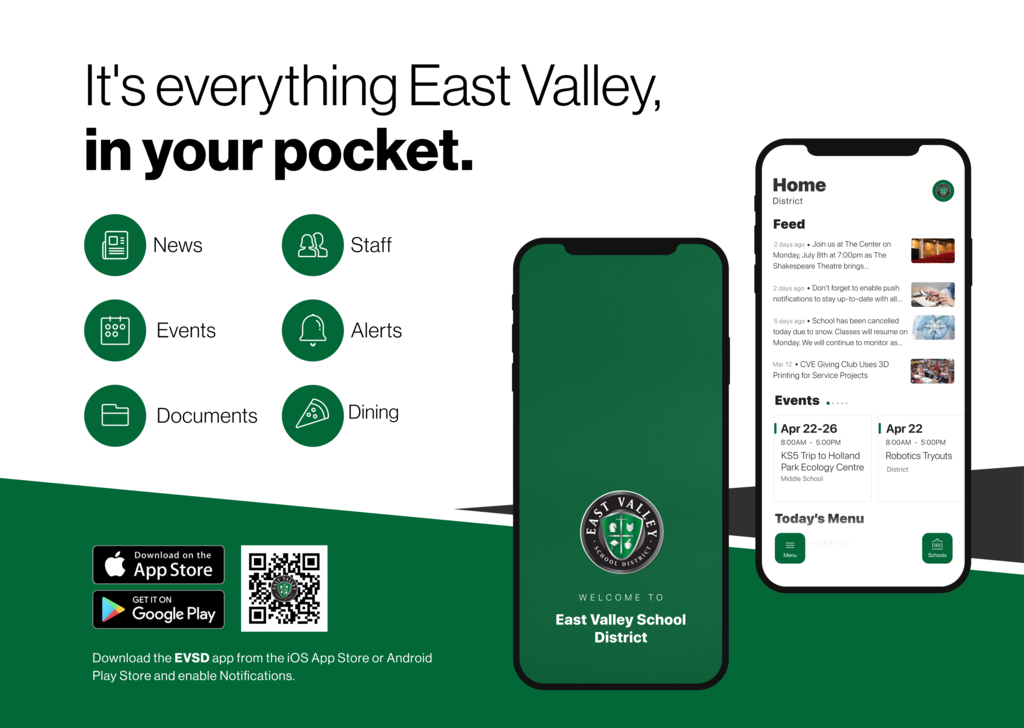 Congrats to all of our DECA students for a fantastic job at regionals! Six students will be heading to State this year!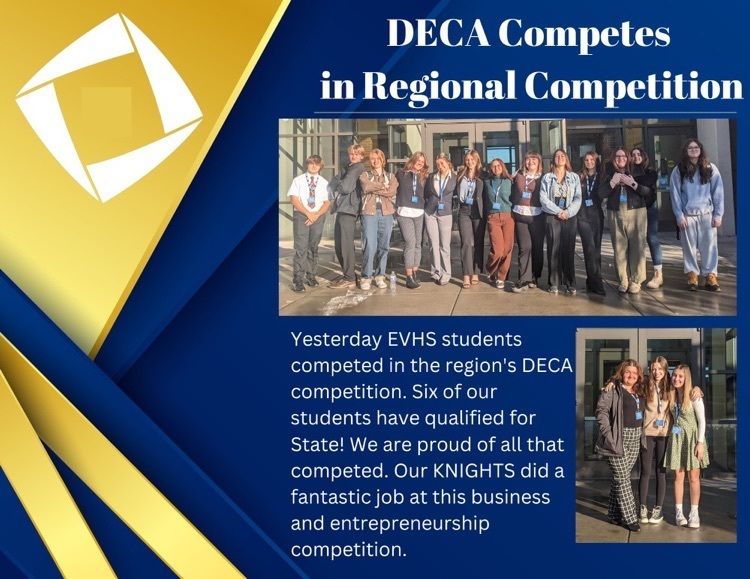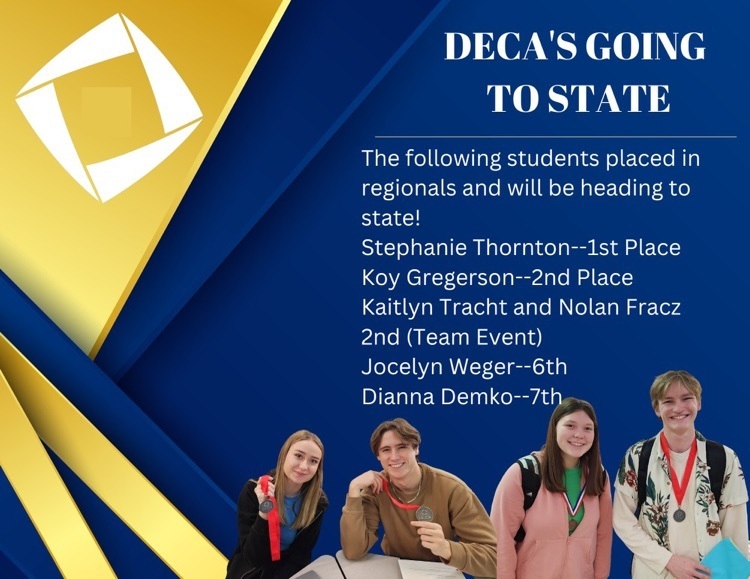 Congratulations to the eighth grade AVID class at East Valley Middle School! They received news that they were selected to create ornaments for the Governor's 2022 holiday tree. Only 16 schools out of 2,500 in the state of Washington were given the opportunity to participate in this year's ornament project. Way to go EVMS!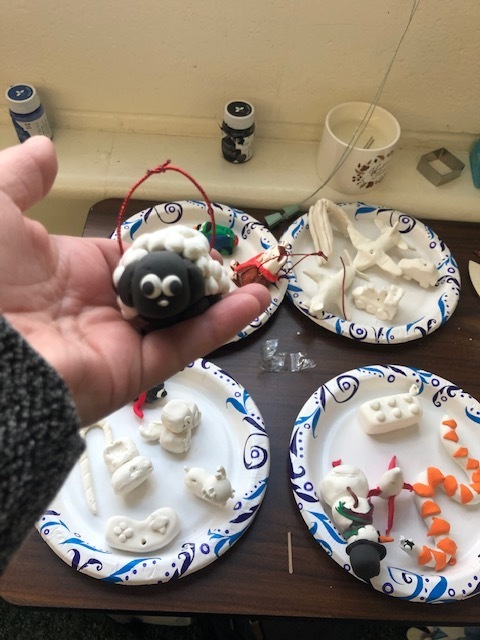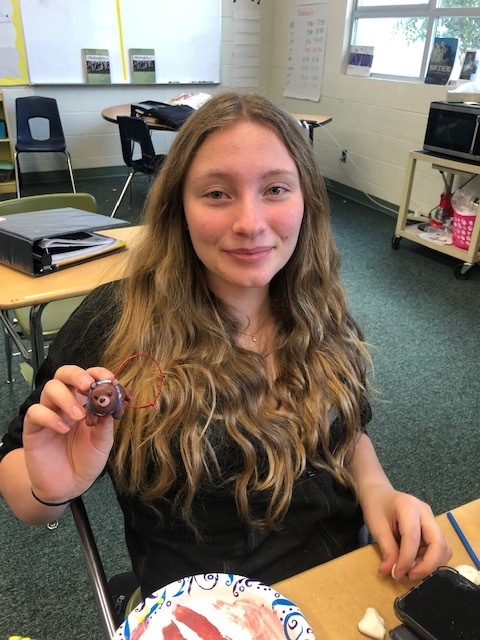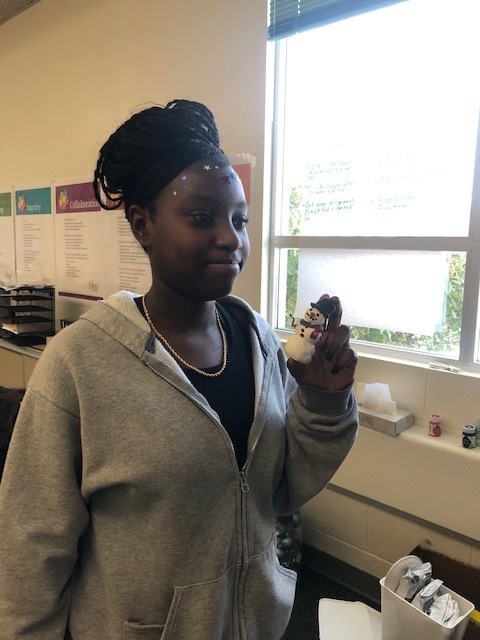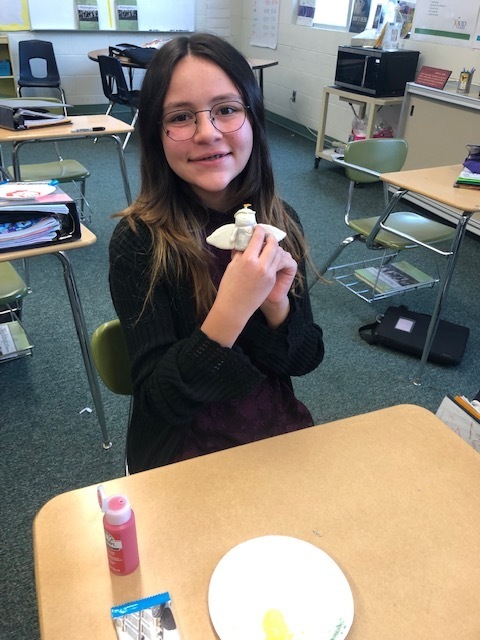 Thank you to the Spokane Valley Firefighters Local 876 labor union for donating coats to students at Otis Orchards through Operation Warm!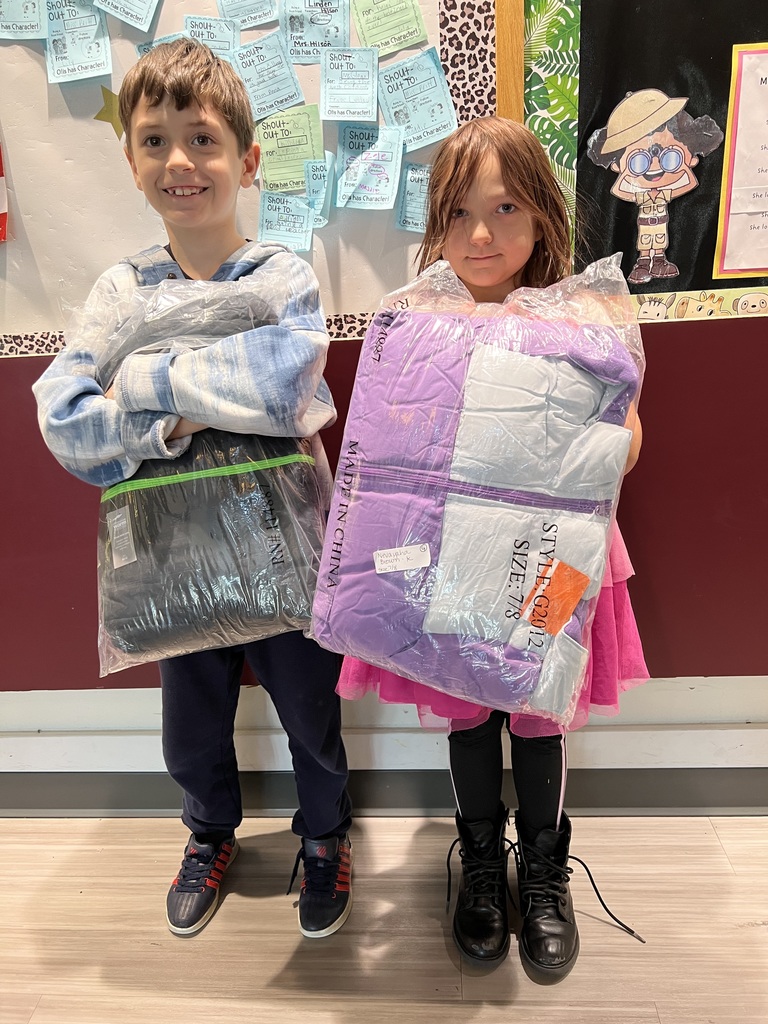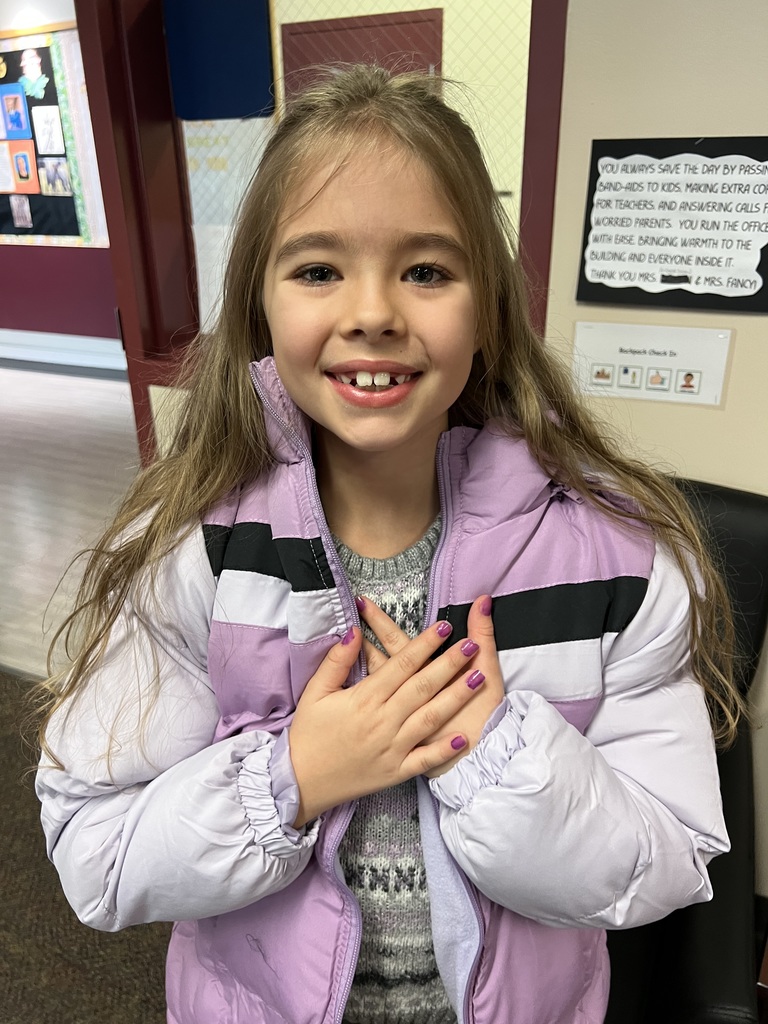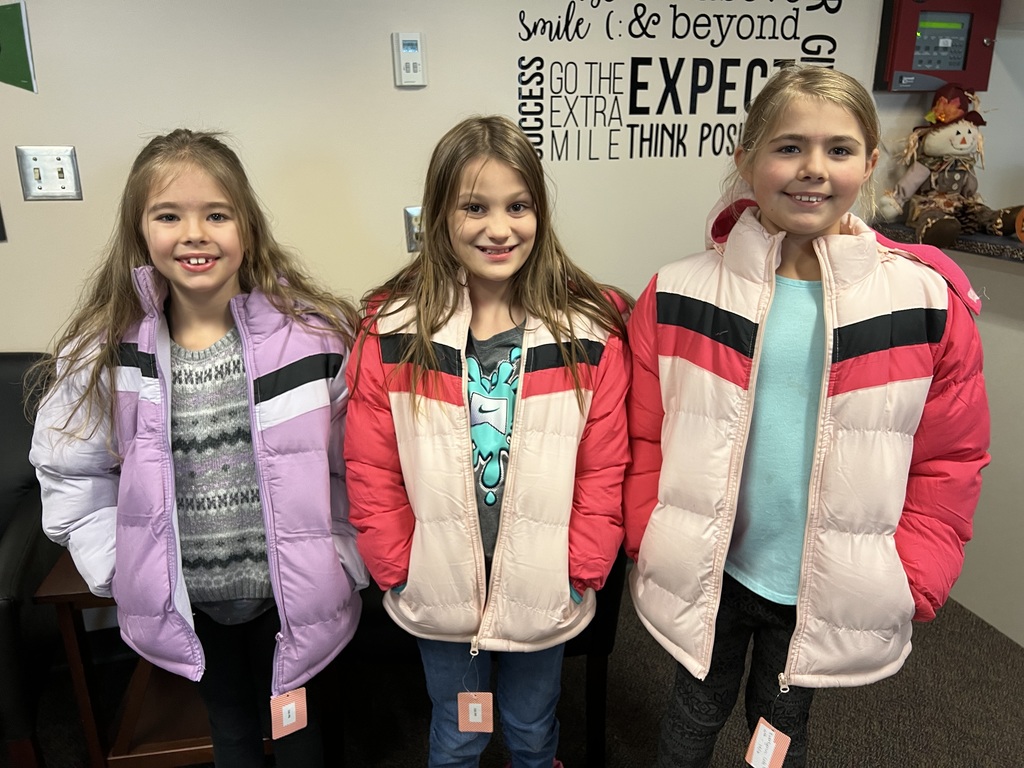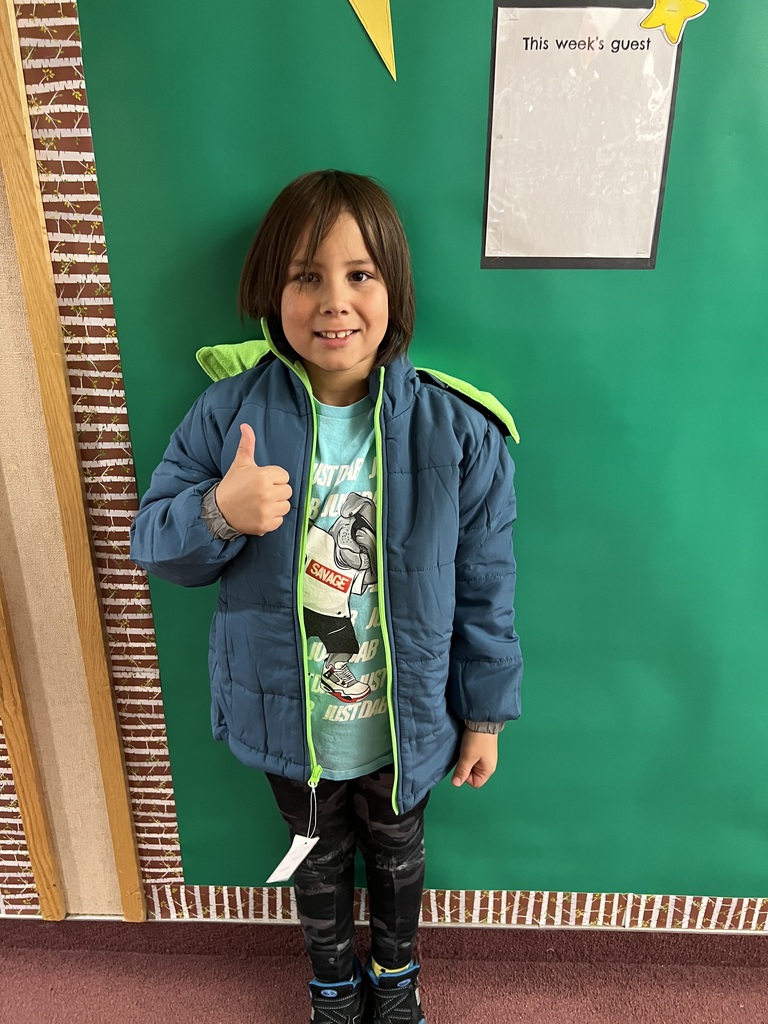 East Valley SD bus driver's competed at the Transporting Students with Disabilities & Special Needs Conference (TSD) held in Frisco , Texas this past weekend. As always, EVSD was well represented at the competition. Although there were only 8 teams, competing nationally where things are done a bit different in each State AND being their first time competing-they came in 6th place! The competition was fierce with 4 teams from Texas, 1 from Colorado Springs, 1 from North Carolina, and 1 from Indiana. Not only did our team represent EVSD, they represented the West Coast!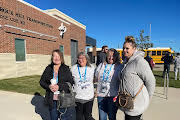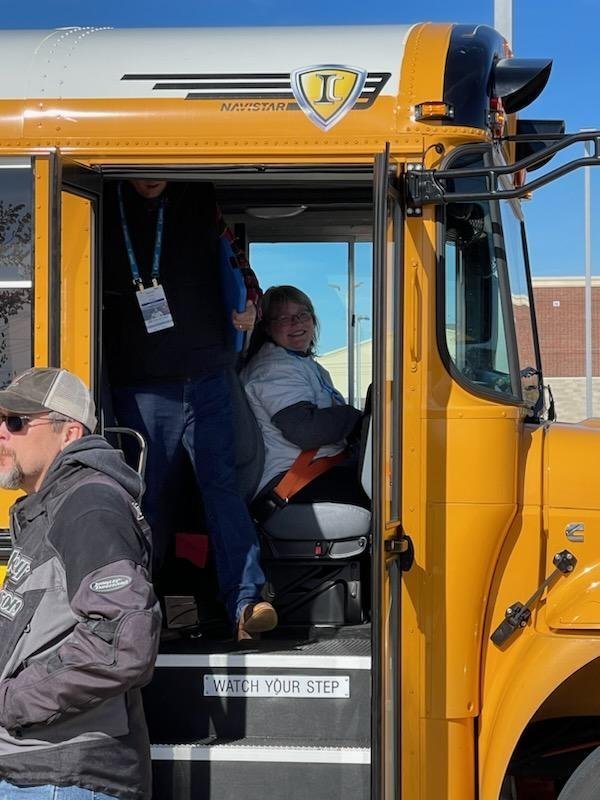 East Valley School District learned of Mr. Rick Holland and his lifelong passion for honoring and keeping our Country's POW/MIA soldiers and their families in our hearts and minds a year ago through a newspaper article. The article spoke of Rick's involvement in bringing two POW/MIA chairs to Toledo High School (Lewis County, WA) to be displayed in memory of those who have not yet come home. Rick was eight years old when his father, Melvin Holland, United States Air Force Technical Sergeant (TSgt) went missing in Laos on March 11th, 1968 and was presumed deceased. Rick followed in his father's footsteps and served as a Staff Sergeant (SSgt) in the United States Air Force from 1978-1988. At East Valley High School's Veterans Day assembly, these chairs were unveiled and presented to the students, staff, guests, and Veterans in attendance. The chairs will be displayed at home events as a reminder of the men and women who gave all. East Valley High School is the second in Washington to have them. Rick's father attended Toledo High School where the first set of chairs are now on display. Many thanks to Rick for his honorable service, passion, and his personal sacrifice. May we never forget. Together, we are East Valley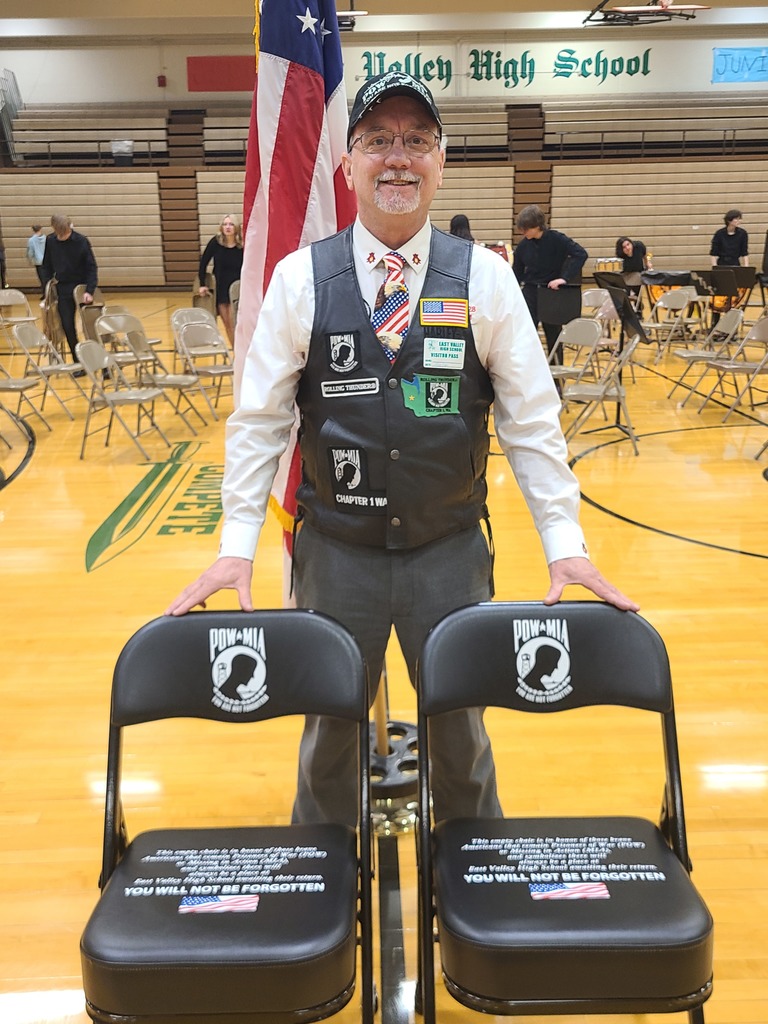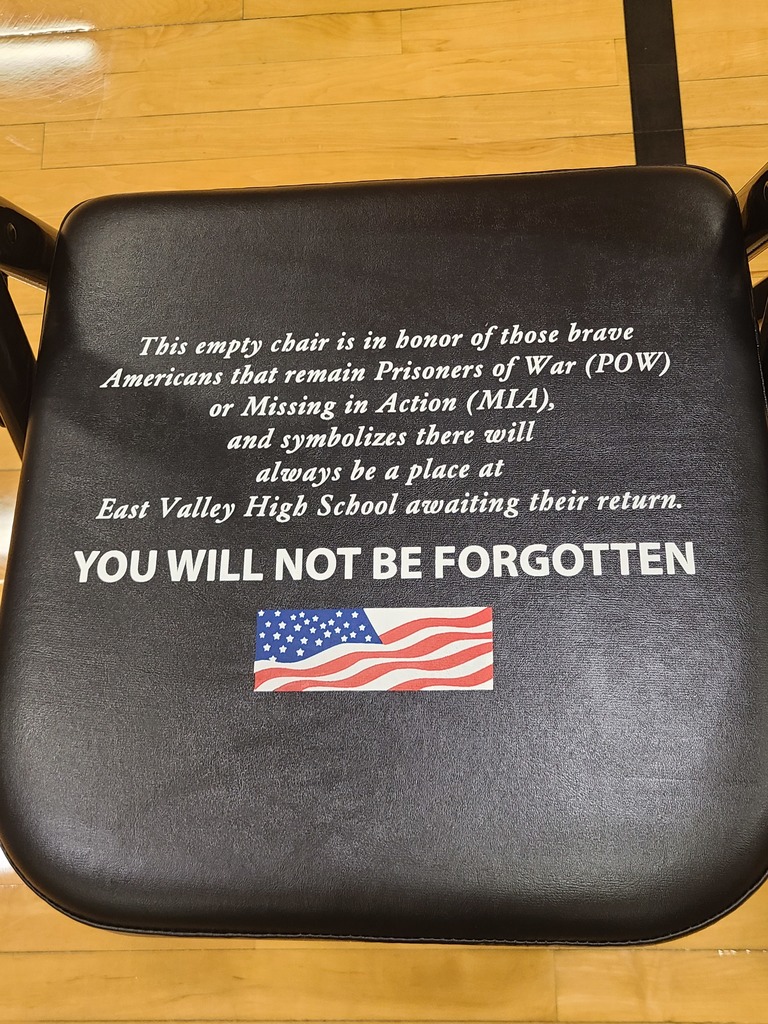 What an incredible night! Thank you East Valley families for braving the weather and attending Flight Knight at the Historic Flight Foundation. A night around discovery, exploration and learning about aviation and potential career pathways. Thank you to our East Valley teachers and administrators , Kent Allen and Sara Ernst from East Farms for teaching the students tonight and Rachel Schuerman (East Farms Principal) and Karen Cloninger (Assistant Superintendent) for supporting this event. Also, a big THANK YOU to our sponsors Jenna McDonald from EWU's Medical Department (EWAHEC), Aaron Hamilton from the Air National Guard, Civil Air Patrol and Life Flight for their donations to make this event totally free for our families. #thankyou #TogetherweareEastValley #HistoricFlightFoundation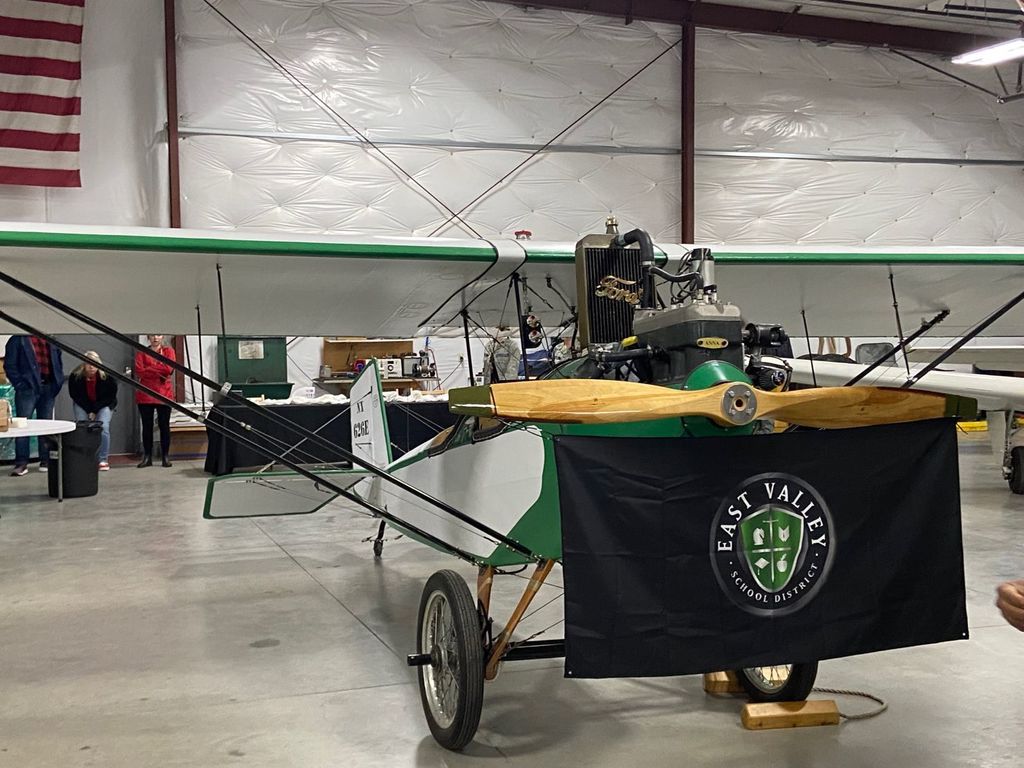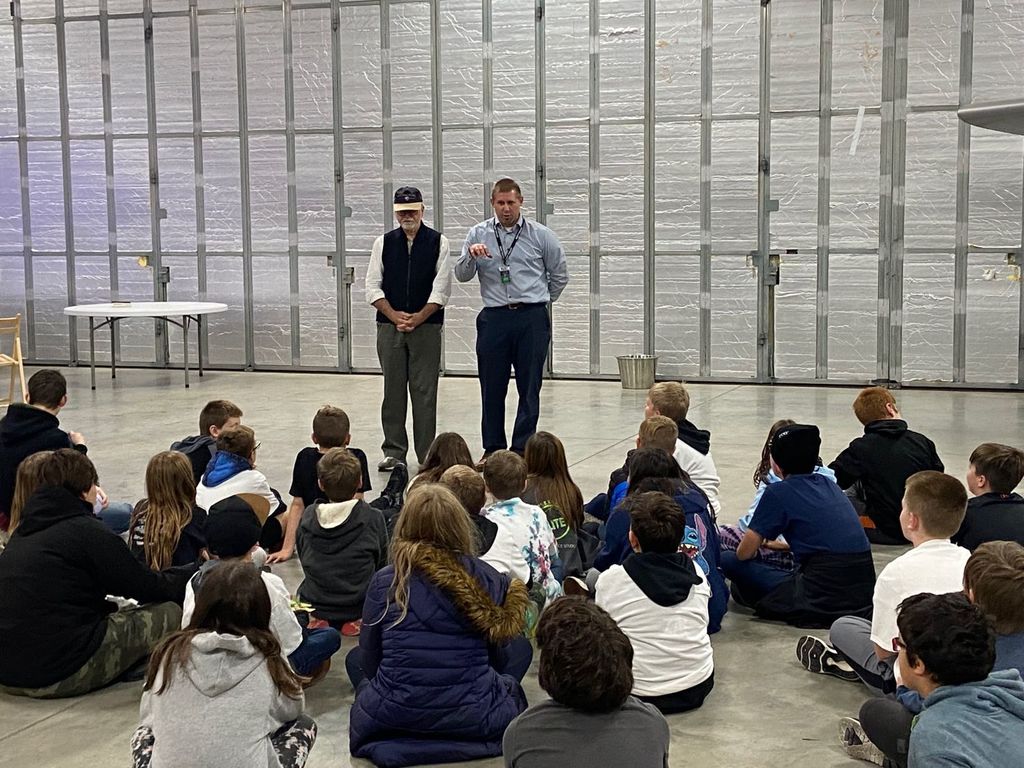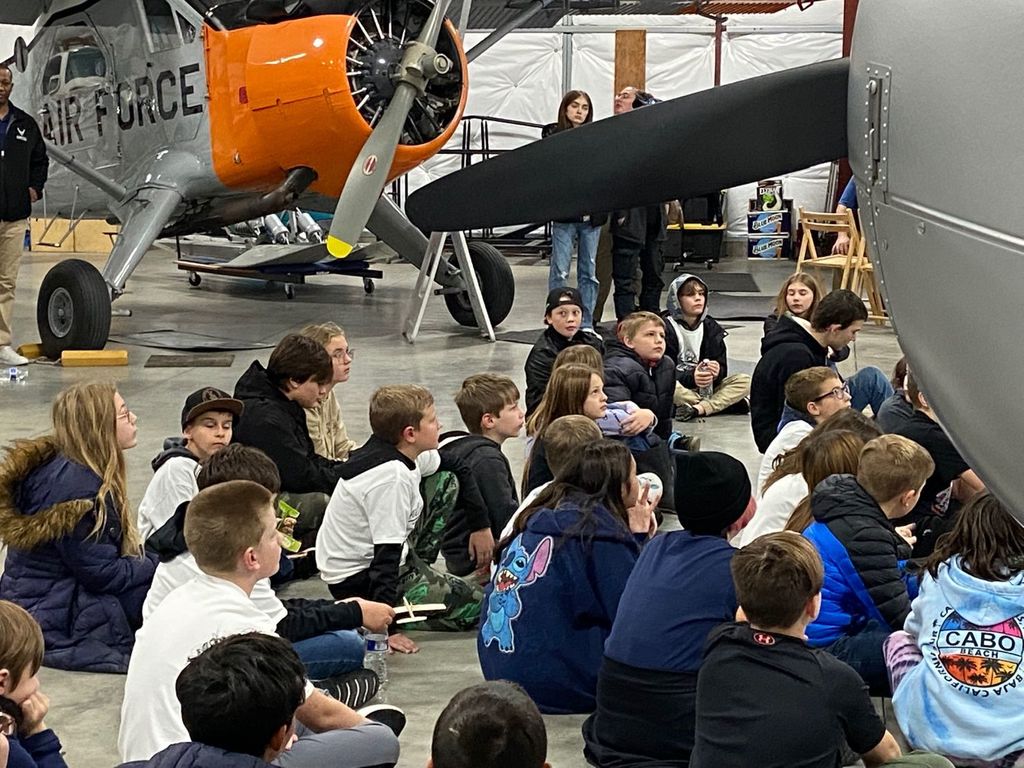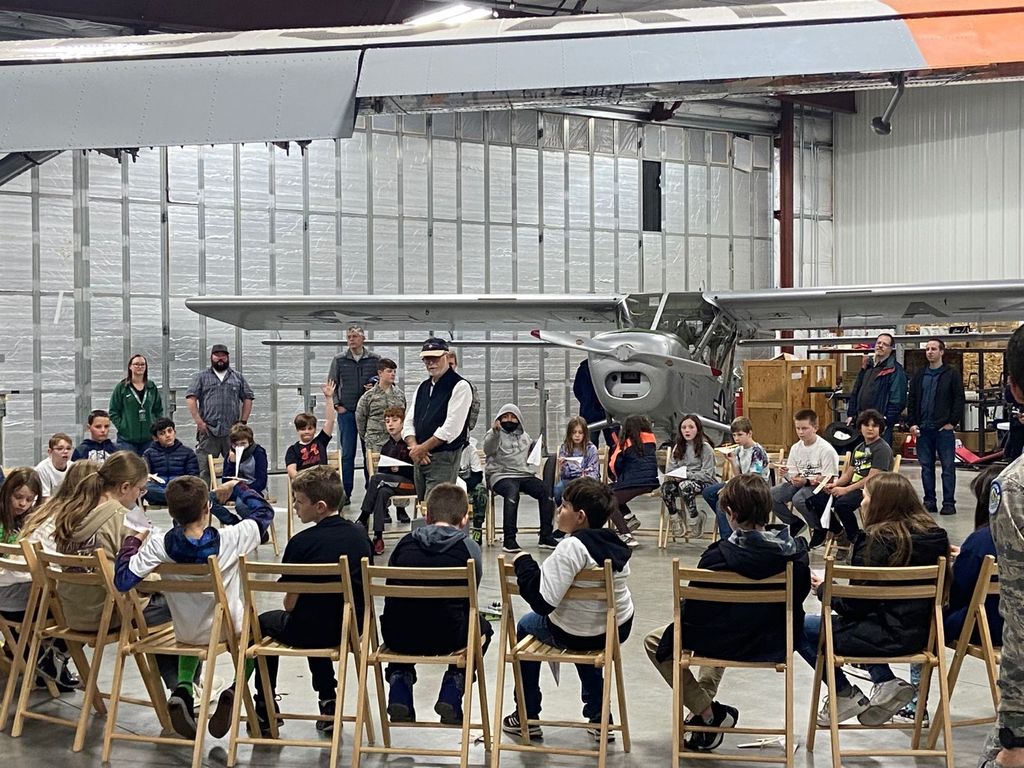 Trades Night was an amazing night! Thank you to all who attended. Favorite quote of the night: "Holy cow. It was INCREDIBLE. Very well organized and so engaging for the teens. I didn't know it would be half outdoors (although probably obvious)- would have dressed more appropriately. My boy (and I) learned to patch drywall and met a young man who fell in love with plumbing after attending the event one year. He spoke so passionately about his work which was great for my son to hear. I could have stayed there all night but my boy wanted the dinner out that I bribed him with. I just cannot believe all these companies come together on the same night to make this happen. It exceeded my expectations by 1000%.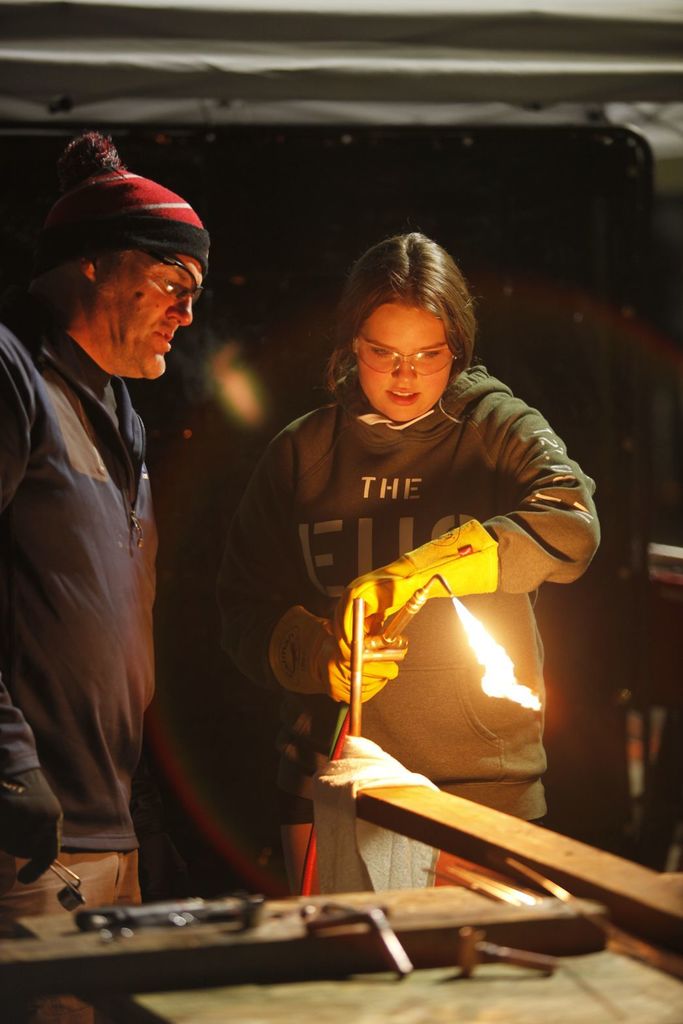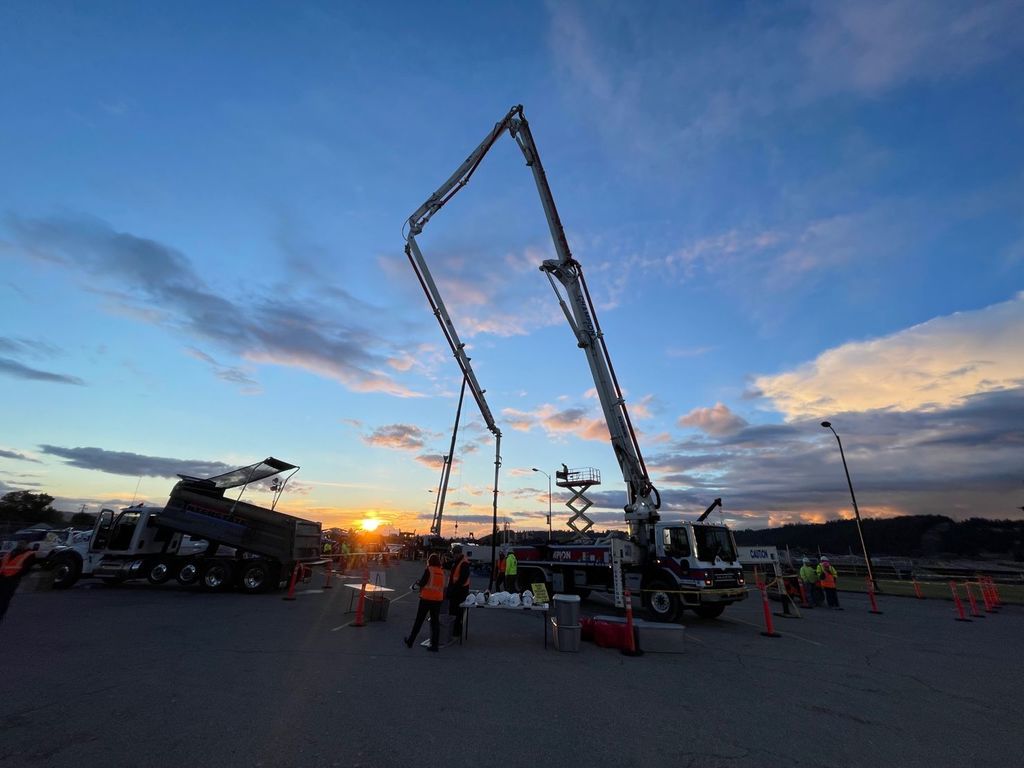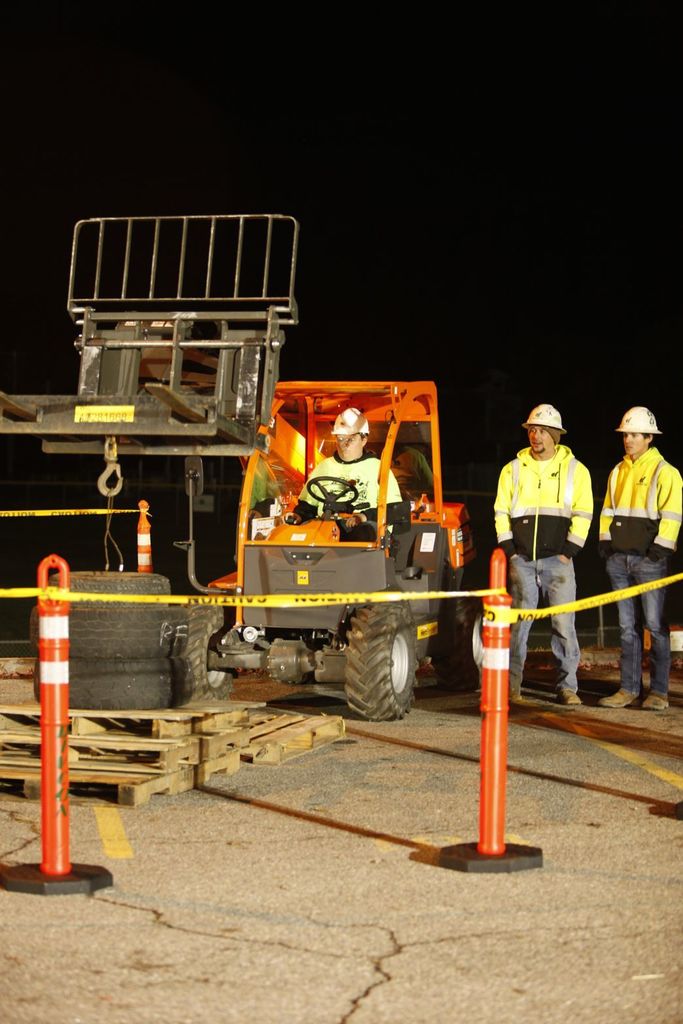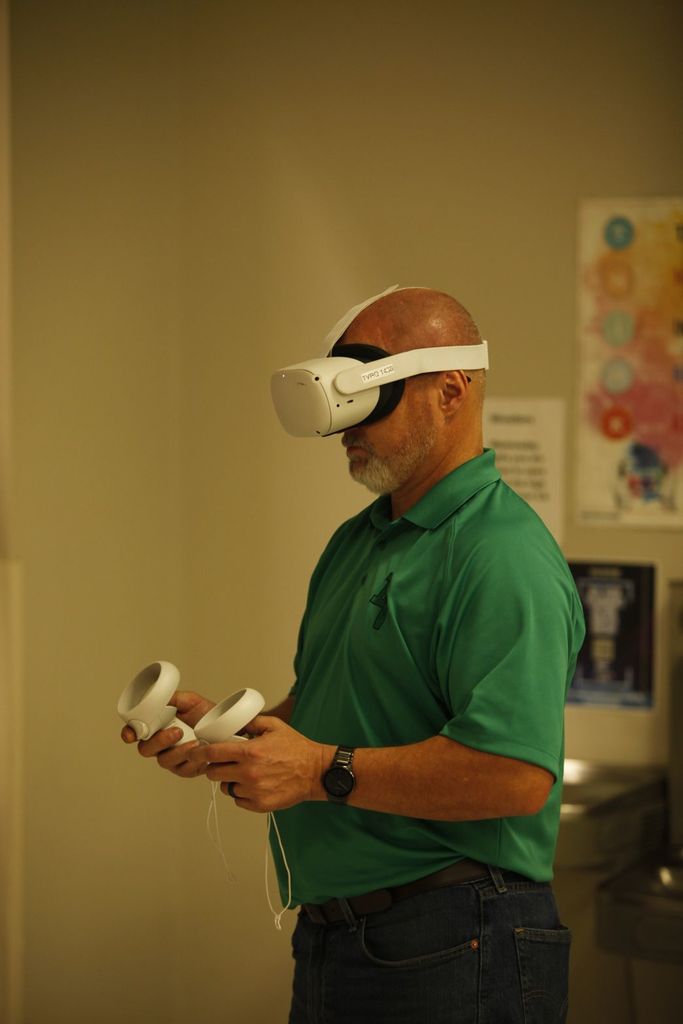 Senior Night for cheer and football! Just a little salute to the senior cheerleaders and football players from the Class of 2023!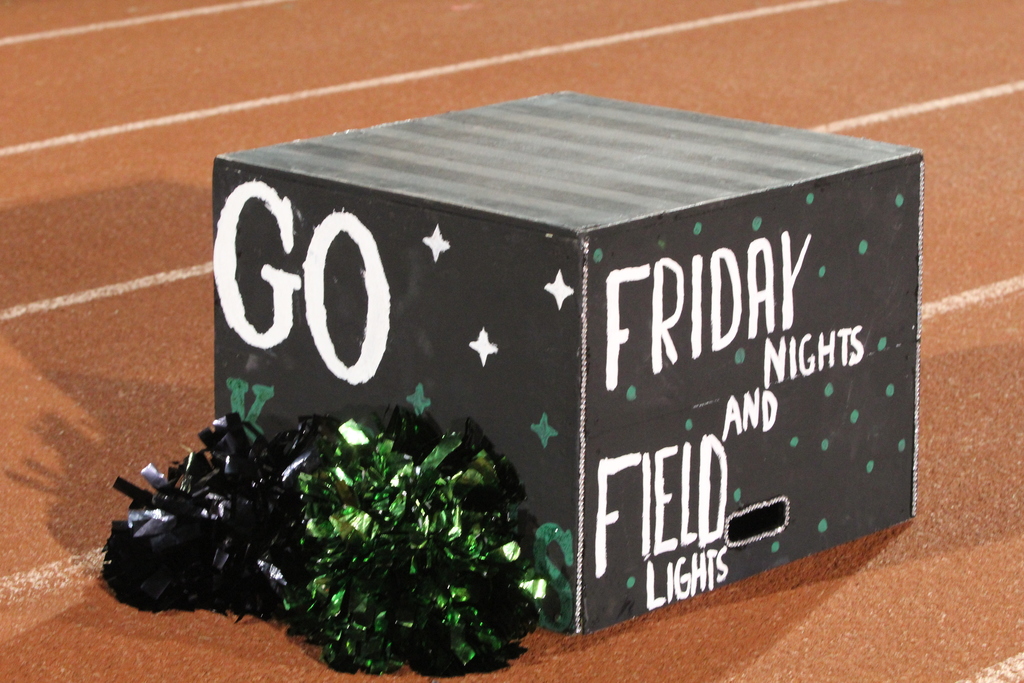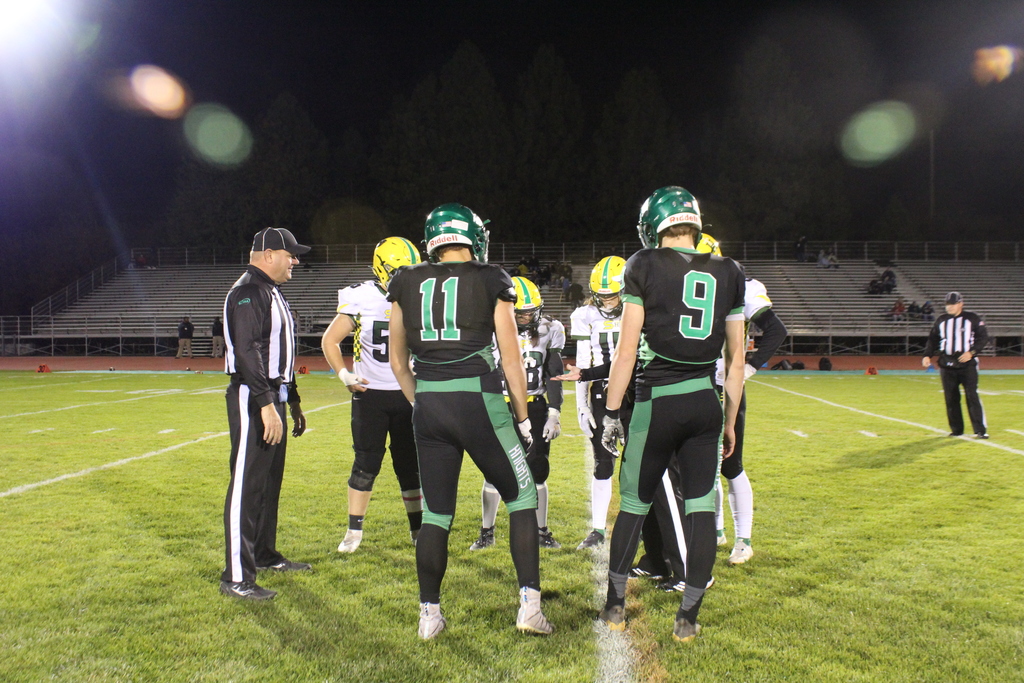 The "Fall Festival" is just one of the wonderful traditions at East Valley High School. So great to have it back again!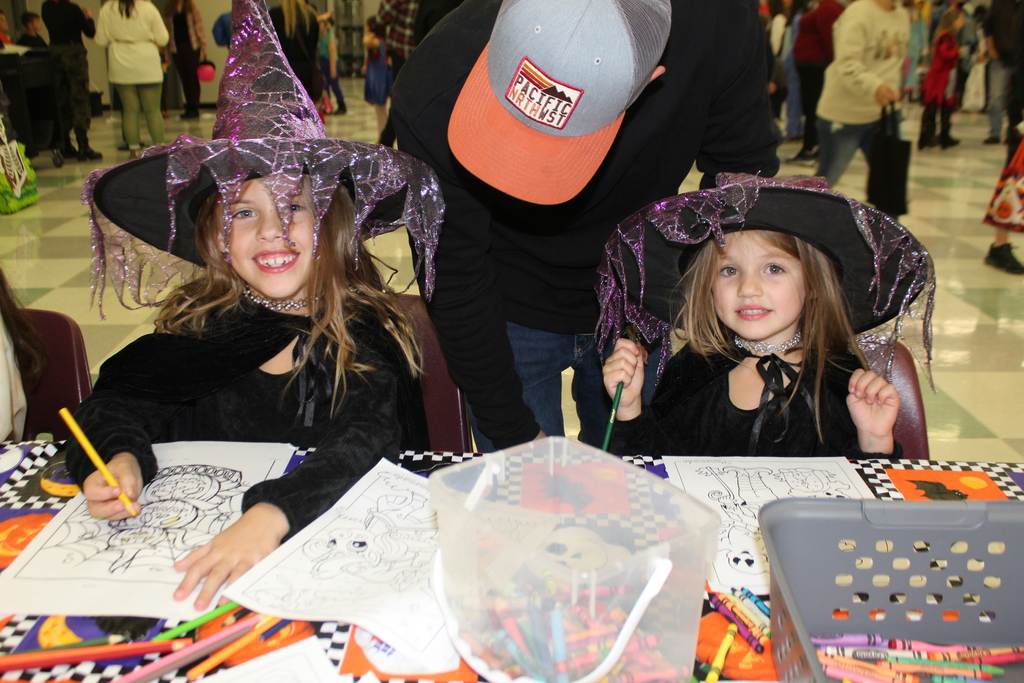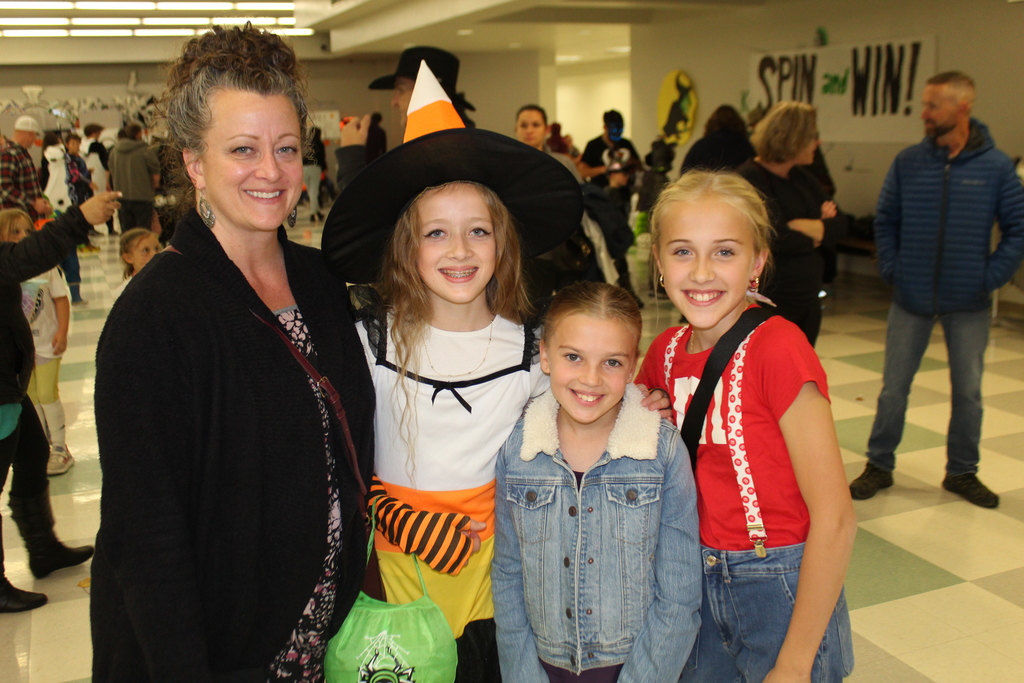 Save the Date! Help us celebrate 40 years of the Rapid Rabbit Run in East Valley! Sunday, March 19th!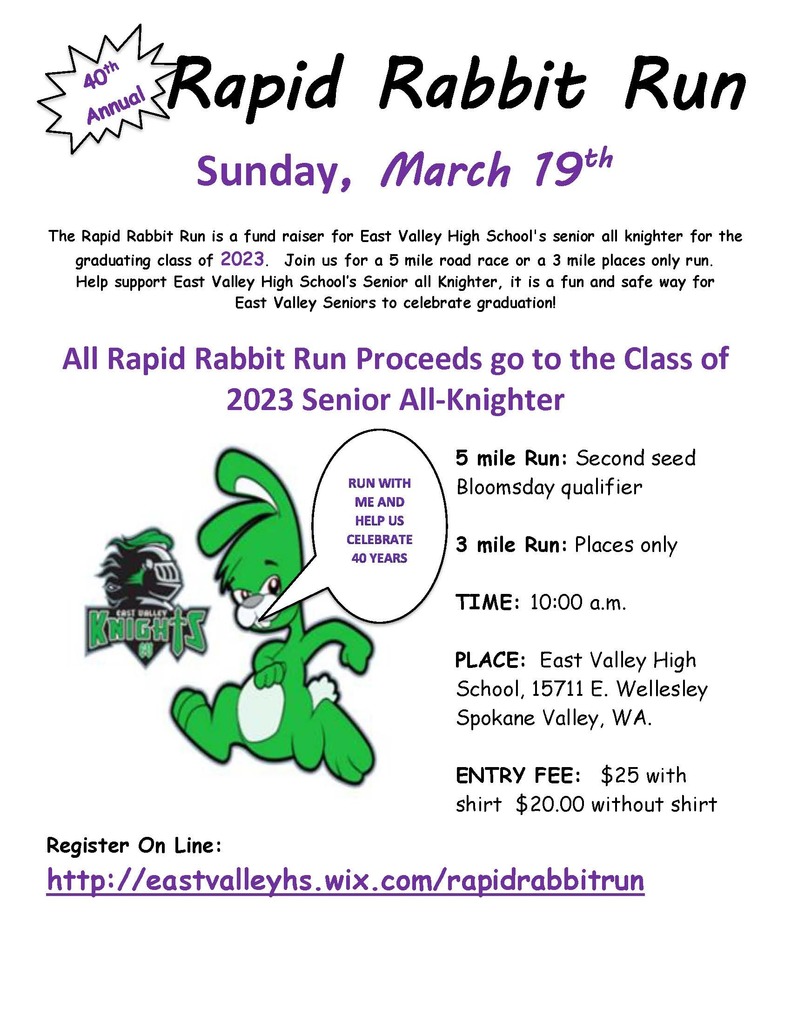 Thank you St. Joseph's Parrish! Otis received a large donation of over 30 board games and card games from St. Joseph's Parish for inside recesses.


The East Valley Career and Technical FFA (Future Farmers of America) Club is currently being trained by Labor & Industries (L & I) to receive two Industry Recognized Credentials (IRCs). The first IRC is WISHA 10 for Agriculture. This is a 10 hour safety & health training on the specific agriculture regulations the State of Washington has to protects farmworkers. During this 10 hour training, students will learn about their rights as employees or future employees, learn how to identify workplace physical and health hazards, and how to correct those hazards. Students will also learn about specific safety topics e.g. Outdoor Heat, Lachine Guarding and Lockout/Tagout, Tractor & Power Take-Off (PTO) Safety, Pesticide Safety, and many other safety topics related to agriculture and other industries. At the end of the 10 hour training students will be issued two different certifications: One issued by the Dept. of Labor & Industries and the other will be issued by the Dept. of Agriculture in regards to the Worker Protection Standard (WPS- Regulations on pesticide safety). Lunch was sponsored by LMF and The Country Store. Thank you for supporting East Valley students!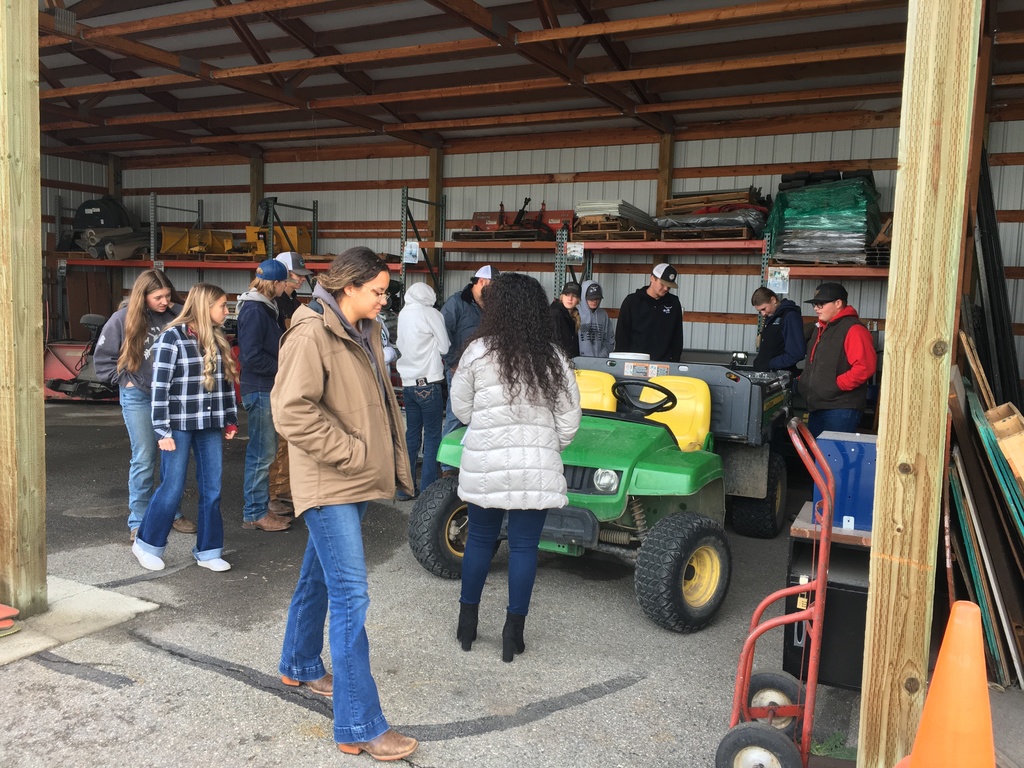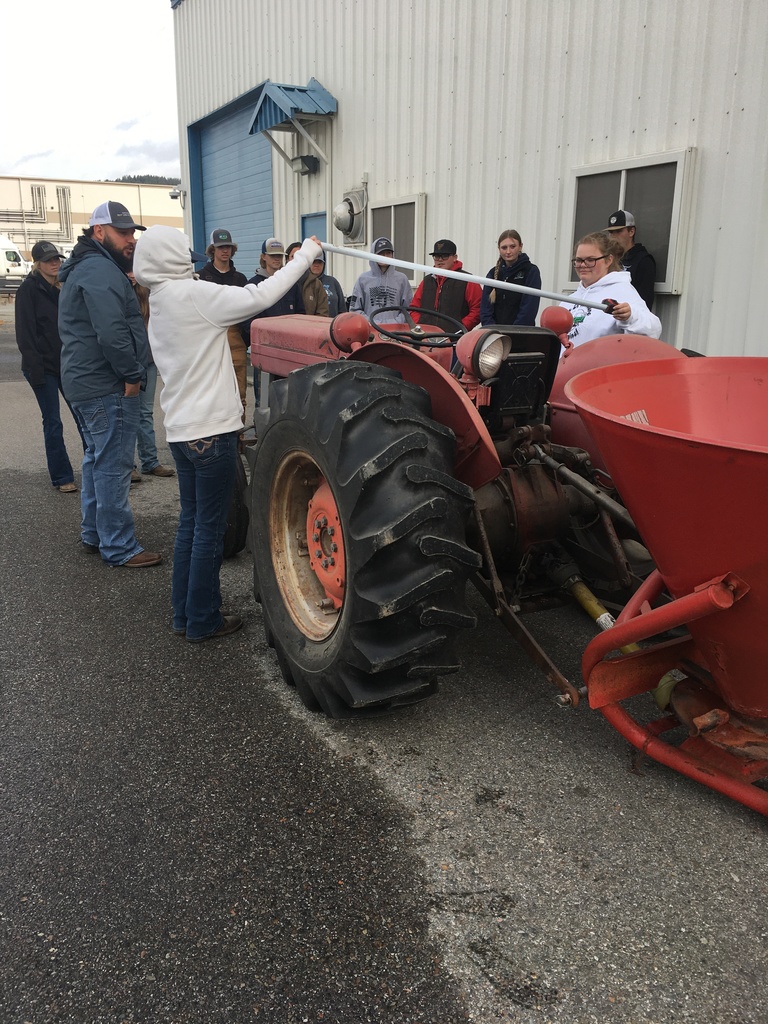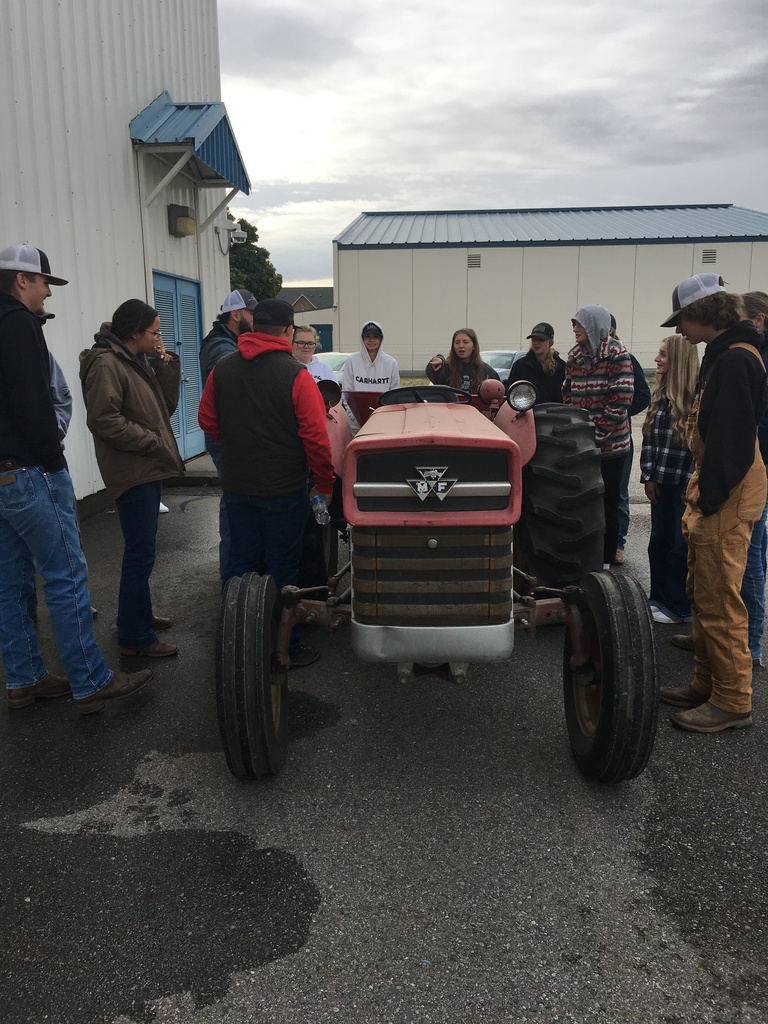 A big THANK YOU to Wilbur- Ellis for the donation of soil to be used in our greenhouse! Our Career/Technical FFA students will use it to prepare for our spring plant sale that will be held in May.